Mixtape: Video Nasties - I'd Rather Be Hot Knifing Pt. 1 (TLWS-MX002)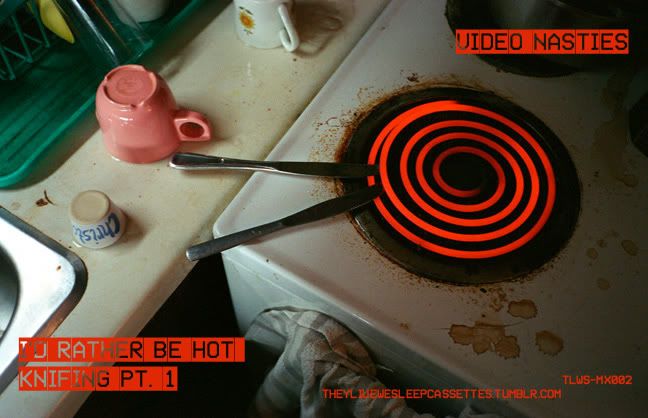 Mixtape taken from the Night Bus set w/ CFCF & JRC (Montreal/Blizzarts/Nov. 10).
Here, above,
cracks in the buldings are filled with battered moonlight.
The whole shadow of Man is only as big as his hat.
It lies at his feet like a circle for a doll to stand on,
and he makes an inverted pin, the point magnetized to the moon.
He does not see the moon; he observes only her vast properties,
feeling the queer light on his hands, neither warm nor cold,
of a temperature impossible to records in thermometers.
This feeling of disconnection existed long before Night Bus, but the existence of Night Bus makes me feel just a little bit more comfortable. Thank you, CFCF and JRC, for allowing me to join in on the celebration.

This mixtape was mixed live. The tracks are as follows:
1. The Black Hole (dialogue)
2. Hype Williams - The Throning
3. Excepter - Rock Stepper
4. Acheron - Broken Ship
5. G-Side - Shots Fired
6. Colin Stetson - Judges
7. Chris Isaak - Wicked Game
8. Kanye West w/ Rick Ross - Devil in a New Dress
9. Clams Casino - Numb
10. The Clipse - Nightmares
11. The Black Hole (dialogue)
12. Video Nasties - The solar system dies of crib death. If that's what it takes, then okay.