Release: Acheron - September Tape Fire (TLWS010)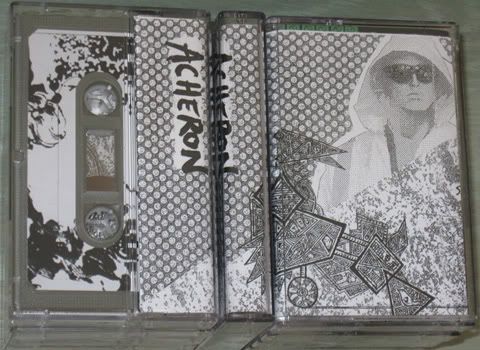 I am pleased to announce the release of Thomas and Aidan's debut EP, "September Tape Fire". Hailing from France and Scotland respectively, meeting through a series of tubes, the duo manipulate gravitational fields, forcing planets to slows dance with one another on a galaxy-wide prom night. Mimetic sounds of large bass drones cushioning rising and descending scales, I could not be prouder of this release. Four-panel cardstock artwork by Jenny Brunet. Grey shell c28 cassette with oversized cardstock insert.
Second and final batch of 25 now available for order!

CAN $8 // USA $9 // ELSEWHERE $11
PayPal to welseepcassettes (a) gmail.com or use the embedded PayPal buttons on the lesser TLWS website.
Acheron - September Tape Fire (medley) by theylivewesleep