SALE: 2 for 1 @ They Live We Sleep Christmas Cassettes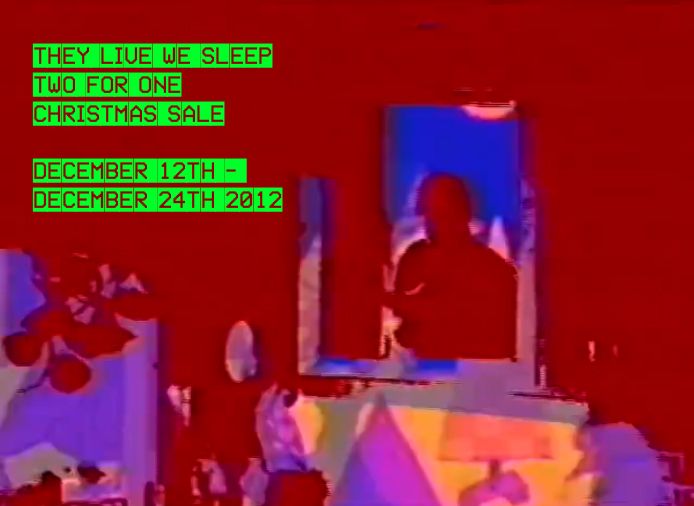 I know what you're thinking,
"For these 12 days of Christmas, I just want to avoid the hustle and bustle of crowded malls and just get some new experimental cassettes."
I'm sick of hearing this and knowing that you're in for the worst, no new cassettes for you or your loved ones this Christmas. It ends here! Two for One sale at the TLWS store! Let's get rid of all the stock, give you some great stocking stuffers for your weirdo like-minded friends, and give me some PayPal money so I can afford Christmas gifts for MY weirdo like-minded friends!
And when I say get rid of stock, I mean get rid of stock, because I have a VERY limited amount of cassettes left over. Three Aim Low / Les Beyond, three ckettering, two Les Cousins Dangereux, one Video Nasties - The Day the Screaming Stopped. HOWEVER, I have a whole bunch of Video Nasties' Halloween Remix Mixtape, of which you probably didn't even know existed, BECAUSE I FORGOT TO POST IT ON THIS TUMBLR. As well as a handful of Sex Slaves cassettes (maybe you'll find yourself with some gloomy Christmas jams).
So here's what you do: when you purchase a cassette via PayPal (either by direct email or the PayPal buttons that never work), tell me which two cassettes you would like! It's that easy! Just make sure to go to the order page of the cassettes to confirm they're still available! I have quite a few of the Halloween mixtape so you shouldn't have to worry about the availability of that one.
So Happy Holidays to all friends of TLWS (and if you're reading this, I consider you a friend). Get drunk, yell at your family over dinner, hug them the next day, so on.